The Echoes of Childhood In Old Fruita
Echoes from the ledges surrounding the old Ghost village of Fruita, in the heart of the Capitol Reef National Park, make me melancholy.
Over half a century ago, I spent a lot of my childhood in Fruita. It was in its old, one-room, sawed-log school that I entered the first grade. I was only 4 going on 5 in November; really too young for the first grade. But, My mother – Hattie Mulford Robison – who was the teacher, had no other place to put me.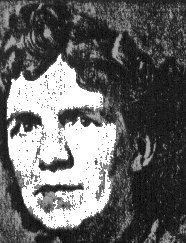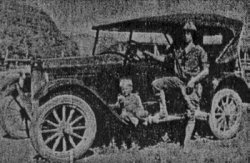 Hattie and son Clay with 1924 Chevy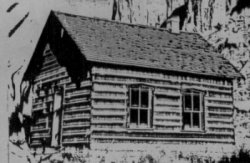 My brother, Max, grown up at age of 6 that fall, was in the second grade. He was my pal,and without him I'd have been alone and lonely at the old cabin where we lived within a short trot from the school. So the decision: I was to go to school.
This I did – more or less, for I played out on the ditch bank with the ants until they would sting me or along the path to Sulphur Creek with the grasshoppers and the toads. And occasionally I'd wander across the creek into Dicey Chestnut's Orchard and pick a tree-ripened pear or two. I'd eat until the juice ran down my chin and attracted the bees that were on the wing for sweets. Dicey knew about it, and didn't mind. She was a generous woman who loved children besides the four of her own.
That first year of school was in 1925. Jack Dempsey, the world's heavyweight champion, was in his heyday. All the boys in the school from the eighth grade on down to me, the mascot, were wildly swinging fists in preparation to become champion pugilists. We'd take a poke at anything and anyone just for practice.
Mama was only 29 that year. It was her first school. She had been going summers to the University of Utah to get her certification to teach while Max and I had spent a long lonely summer with Grandma on the old Vermillion ranch. We got so lonely we tried to make and airplane out of an old hayrake. Surely that contraption would fly us to Salt Lake City to see our Mama.
But when it failed, Max got Uncle Con's new hardtwist lariat from the shed. We roped a pig. We would ride the pig to see Mama. We almost got dragged off the fence into the pig mire but we let go of the rope just in time. Then came the awful confessing to Uncle Con, and having him retrieve his soiled rope from the pig's neck.
When I go back to Fruita (that's what Capitol Reef National Park will always be to me) I sit high on the hillside on the trail to Cohab Canyon, just above the old Pendleton barn. And listen to those echoes of the past – Uncle Cass calling from his fruit ranch up the valley to his neighbor, Dewey Gifford, down close to the confluence of the river and the creek. They had no need for telephones. Their voices carried the three-quarters of a mile and echoed in the ledges like thunder. And I can still see and hear Mama stepping out on the little porch of the schoolhouse, ringing the hand bell to call in her little flock – a dozen or so boys and girls, 15 years on down.
Those echoes are all there today, locked within the concave chambers of the red and orange, yellow and white, smooth cliffs that wall in the little village of Fruita. They bring memories of the scorpion that stung my thumb as I dug into the red shale on a bank along a dry wash. They rushed me down to Oyler's place, where a good stiff glass of homebrew, peach brandy took away all the pain and the poison. Otherwise I would surely have died. (The brandy was for medicinal purposes – so it was said).
And I hear the yelling I did when Mama took the school kids on a spring hike up through Cohab Canyon (so named because in the days of polygamy, men with more than one wife would hide there from Fed). I sat on a sandbank to rest, but suddenly I rose with a howl that filled the echo chambers of Capitol Reef for a millennium. I yelled just as loudly when Clarence chestnut, the oldest boy, plucked the needle-like stickers from my bared behind with his pocket knife. (Clarence was a good fellow. He was to grow up in Fruita and operate a commercial fruit ranch there until the Park Service bought him out).
I looked forward to weekends. Then Dad drove our little '24 Chev – Old Sparky – down the long, winding dirt road from Torrey to be with us. He was principal at the great big Torrey School. There he and two other teachers taught a total of perhaps 90 students. I was proud that my daddy supervised and taught in such a school. I'd brag about him to the other kids at our lonely little school in Fruita. "Why, at Torrey, they've got three school rooms an' a meetin' hall for playin' ball upstairs, an' ya didn't need a hand bell to call the kids in from recess, nosiree. There was a belfry way up high on top of the Torrey school, an' a rope an' the bell was so big it'd pull a boy who was ringin' it right off the floor. I know, because my brother went there to the first grade." But how I loved the little old school at Fruita, maybe because Mama was the teacher, and I loved Mama. As far as I was concerned Mama founded that school. She was that school. And that was so with the other boys and girls, too. They all loved her. They'd bring her apples, pretty flowers, and, sometimes, a chipmunk.
But, of course, she did not found the school. The school was started in about 1895, the year before my mother was born, when Fruita was called Junction and Grandma and Grandpa Mulford lived there. And there had been many teachers before Mama took over, and many teachers after she quit teaching at the end of her second year in 1927. That little school continued to turn out good, knowledgeable students up to 1941.
I remember the last time I ever attended a social function in that schoolhouse (it was used on Sundays for church meetings and Sunday school and for special community socials). That last time was the farewell party of my cousin, who was leaving on a mission for the Church of Jesus Christ of Latter-day Saints. The room was full of familiar faces. I was a grown man, then, and in college. And many of the people who had been young in the days of my schooling in Fruita were then old. But we played the same of games, sang the same old songs, and enjoyed them just as we had back when I was a first grader there.
And as I gaze down on the tranquility of green, foliage-lined Sulphur Creek and the Fremont River. I can still hear the echoes of the tremendous, thundering, rock-rolling and pounding floods that overflowed the creek channel after a cloud burst in the Upper Country. Those floods always scared the heck out of me.
Most of the people I knew in those days are gone now – gone to explore and settle other lands in the hereafter – my mother, my father, Uncle Cass and Aunt Marie Mulford, Dicey and Will Chestnut, Clarence Chestnut and his cousin Glenn, Dan Adams, old Brother and Sister Jorgensen, Nell Gifford. They're all gone, but their voices, their laughter, and their weeping– in times that were both good and bad, still linger in the echoes of the ledges of Fruita.
Clay Robinson